In the spirit of the season, the Greater Together Leadership team and AIGA would like to have a little holiday party to thank everyone involved in making the first year of Greater Together so amazing and rewarding.
Greater Together Thank You Celebration | Monday, December 8 | 5:30 PM – 7:30 PM
Holiday toast and and live DJ
Hanson Dodge Creative
220 East Buffalo Street, Milwaukee, WI
Thanks to you, Greater Together:
•  Had dialogue sessions all over Milwaukee
•  Brought scores of organizations into the conversation
•  Instigated thousands of conversations about Milwaukee's segregation issues
•  Reached hundreds of thousands through a wide variety of media
•  Motivated 130 inspired ideas to promote social and economic equality
•  Presented 15 winning ideas at the Greater Together Competition to a packed house at Turner Hall
The events formed in the spring are truly beautiful — and that beauty is found in our work, strength of purpose and cooperation. I'm so grateful and humbled to have had the chance to share so richly in Greater Together's success. As AIGA Wisconsin moves into a new year, it's important that we remain passionate and committed to the ideas and the movement we started.
For your creative energy, your instinct for truth, and your incredible ability to become both designer and activist, I give humble thanks.
Please send an RSVP email to » invite@hansondodge.com
In devotion, and in gratitude …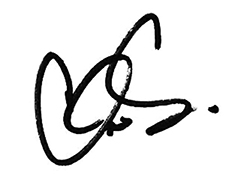 Chris Klein
President, AIGA Wisconsin